Services

Health Centered Dentistry
At Complete Smile Care, we are passionate about health centered dentistry. During your dental appointment, we will inquire about your current health and medications, but also be on the look out for warning signs of other problems. The mouth can reflect existing conditions that a person may be unaware of, such as: diabetes, heart disease, or a viral infection.
If you have the following symptoms, please schedule an appointment with Dr. Marie Calabrese:
Bleeding Gums
Toothache
Canker Sores
Dry Mouth
Infection Control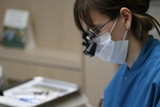 We pride ourselves in constantly updating our knowledge about the latest sterilization techniques. Our training is reviewed annually, and we submit weekly tests to insure our equipment is performing at its peak. By meeting or exceeding all OSHA and CDC requirements, we follow the highest standards in sterilization.
Cosmetic Dentistry
Dr. Calabrese's comprehensive training can assist you in correcting these common esthetic problems of the teeth and gums:
Stained/Discolored Teeth
Two types of staining occur on our teeth: external staining from things like coffee, tea, berries, and red wine or juices and internal staining, which occurs naturally over time as we age.
External staining is superficial and can be removed with a professional dental cleaning. The dark stains on the surface of the teeth will be gone, but the teeth may not appear much whiter overall.
Internal staining can be remedied with whitening treatments by Dr. Calabrese. Unlike over-the-counter whitening agents, the whitening solutions prescribed by Dr. Calabrese have been tested for safety and effectiveness. Many patients have thrown away a lot of money on over-the-counter products that don't work or only affect a limited area (like strips that fit over the front six teeth only). Dr. Calabrese and her team can make a custom fitted whitening kit to give you the best result.
Mismatched or Old Dentistry with Dark Edges
Porcelain bonded to your natural tooth allows the light to reflect off it like your own tooth enamel. Today's porcelain / ceramic restorations are so beautiful; it is easy to forget which of your teeth have been restored and which are your natural teeth. In most cases, we do not need to use any metal to support the porcelain, eliminating the gray line that appears at the gum line after wearing a crown for a period of time.

Metal Fillings
Sometimes referred to as silver fillings or black fillings, metal amalgam (a mixture of copper, tin, zinc, and mercury) are unappealing to many patients because of their dark color. Dr. Calabrese chose several years ago not to place these fillings for her patients anymore due to the long-term detrimental effects they can have on the teeth, including: leaking, allowing new decay to start under the filling; and cracking caused by the expansion of the metal in the tooth.
Due to the high mercury content (about 50%), some patients are concerned about the safety of amalgam fillings. While the American Dental Association (ADA) has declared it safe, several European countries have banned its use. Dr. Calabrese follows special techniques for safe removal of amalgam fillings to reduce the chance of inhaling the mercury vapor created. We also follow strict protocols for handling the waste generated from removing amalgam fillings to keep it out of our water supply.
Uneven/Gummy Smile
If you are bothered by teeth that appear to be uneven length because the gum is a different height on your teeth, or you feel you show too much gum, Laser recontouring may be for you.  This procedure can sometimes be done without anesthetic and no post-operative discomfort.
Crooked Teeth or Spaces between Teeth
Dr. Calabrese is certified in Invisalign ™ an alternative to braces that does not involve brackets or wires. Many patients can have their teeth straightened in 6-12 months.
If you are looking for a more rapid change in your appearance, or desire a change in the shape and color of your teeth as well as making them straighter, Dr. Calabrese can mask the appearance of crowded teeth or close the spaces with beautiful porcelain veneers. Dr. Calabrese has extensive hands-on training in creating the perfect, individualized smile for you.
Chipped/worn teeth
Short teeth and teeth with chips in them look older. Rejuvenate your appearance with porcelain veneers or bonding.
Missing Teeth
Dr. Calabrese's training included a year long Fellowship in Implantology, the replacement of missing teeth with artificial tooth roots.  Crowns or bridges can be built on the implants, or they can even be used to support a denture so you never have to worry about embarrassing denture slips.
If you are not a candidate for implants, spaces can be filled with ceramic bridges using the teeth on either side of the space for support.
Whitening
Tooth whitening is a popular procedure to make teeth whiter, brighter, and more attractive. Bleaching can be used to whiten stained and discolored teeth, or simply to enhance a dull smile. Either way, tooth whitening is a safe and relatively painless procedure ideal for most patients. Our office offers tray whitening so that you can whiten as much or as little as you want.  It is a less expensive whitening treatment you can use while in the comfort of your own home to gradually whiten teeth. We will first take an impression of your teeth to create a customized clear tray that you will wear to whiten your teeth. Within a few days your trays will be ready to be picked up and we will show you how to apply the special bleaching material to the trays. Occasional treatment can be used at your convenience to maintain your new smile.
Invisalign ™ - Invisible Braces
The Invisalign treatment consists of a series of clear, snap-on, custom fit, removable mouth trays that apply a controlled amount of force to your teeth, forcing them to shift. The system provides the same beautiful results as traditional braces, but since the trays are made of clear plastic, they are virtually invisible. In addition, because Invisalign trays are removable, they can be taken out while eating, drinking, brushing and flossing.
The Invisalign System begins by creating a series of trays (Aligners) that will each move
your teeth gradually until the end result is achieved. At the end of each two-week period, you will switch trays (Aligners). Throughout the process, you will visit your dentist every six weeks to ensure treatment is progressing as planned. Many adult patients elect to have Invisalign invisible braces instead of traditional wires and they love the fact that they are the only one who knows.
In Our Dental Office You Will Truly Receive Complete Smile Care.